My Tysabri Diary..


Happy Easter everyone!


Whether or not you are a believer in Easter, I wanted to share a beautiful story of the white Easter Lily, a funny photo of two chocolate Easter bunnies (I think I've shared this before but I still find it a very funny photo), and a hysterical "Bunny Rap" which should put a smile on your face - LOL
My Easter prayer this morning is that each of you be blessed beyond belief with good health, a loving family/friends to share your life with, financial prosperity, and a happy heart...,
Easter blessings one and all!
Lauren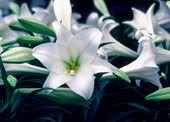 On Easter Day the lilies bloom,
Triumphant, risen from their tomb;
Their bulbs have undergone rebirth,
Born from the silence of the earth
Symbolically, to tell all men
That Christ, the Savior, lives again.
The angels, pure and white as they,
Have come and rolled the stone away
And with the lifting of the stone,
The shadow of the cross is gone!
June Masters Bacher

Here's the hysterical "Bunny Rap"..., enjoy!
Bunny Rap